In Oregon, trucking is primarily a small business venture.
There are 24,450 Trucking companies located in Oregon. Primarily small, locally owned businesses, these companies are served by a wide range of supporting businesses.
Close to 80% of Oregon communities depend solely on trucks to deliver the food, products and materials that they depend on every day.
Trucks are responsible for transporting 90.9% of Oregon's manufactured tonnage – that's 122,780 tons per day! Oregon carriers are as diverse as the men and women who work for them, hauling everything from logs to vehicles to potato chip and computer chips.
In 2020, of Oregon's 78,991 miles of public roads, trucks traveled 4.2 billion miles; all motorists traveled 32.3 billion.
Safety is the cornerstone of the trucking industry, with carriers dedicating their time, effort and money into training and education for everyone - whether behind a desk or behind the wheel. Road, facility and shop safety is complemented by a focus on the health and well-being of all employees. As this investment continues, the dividends pay off with fewer accidents and a healthier workforce.
Between 1975 and 2019, the U.S. large truck fatal crash rate has dropped 67.5%
2019 U.S. fatal crash rate per 100 million Vehicle Miles Traveled (VMT):
Oregon: 1.25 | USA: 1.49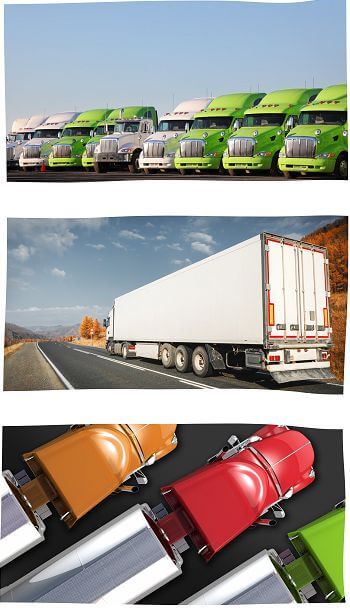 Transporting the Essentials
The trucking industry continues to improve energy and environmental efficiency. While the future of renewable, bio, electric, hydrogen fuel cell and whatever else comes into the mix is something that the industry anticipates, until those sources are ready and readily available for industry-wide consumption, carriers continue to seek out new technology to keep costs down and reduce emissions.
Combination trucks account for just 18% of the total highway transportation fuel consumed
Combination trucks consumed nearly 113 billion fewer gallons of fuel than passenger vehicles in the U.S.
49% of U.S. commercial trucks are now powered by the newest generation, near-zero emissions diesel technology.
There are a lot of rules, regulations, processes and procedures for Oregon carriers to consider. Below are some important links to consider when it comes industry compliance. See the Other Industry Resources page for more.
Have a safety or compliance question? Send them to OTA at safety@ortrucking.org.