Educate...Promote...Influence. The purpose of the Oregon TruckPAC (political action committee) is to support OTA's work to help elect candidates who understand and support the issues of the trucking industry and to help ensure trucking companies operating in Oregon are actively represented in the state and beyond.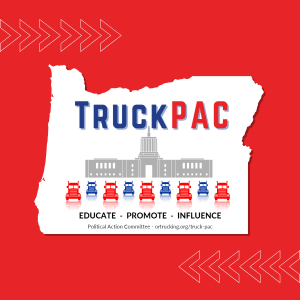 The Oregon TruckPAC makes it possible for OTA to educate representatives, promote policies beneficial to the industry and, whenever possible, influence the outcome of legislation, regulations and rules. The Oregon TruckPAC is also used to support candidates who understand the issues facing the trucking industry. This is essentially OTA's "war chest" - providing the funds needed to battle against harmful initiatives and proposed policies that could alter how trucking operates in Oregon.
The trucking industry constantly faces well-funded opposition in the form of labor and environmental special interest groups that make a lot of noise and seemingly have a fair amount of influence on key decisionmakers. TruckPAC can help even the playing field, allowing OTA to build awareness and relationships that can change outcomes for the better.
The Oregon TruckPAC is made possible through the generous contributions of our members and other supporters. We also hold events each year with proceeds going directly to the PAC, including the annual Bob Russell TruckPAC Golf Tournament in July.
Contribute. Participate. Get Involved. Be a part of the PAC!
OTA can also process your TruckPAC contribution via phone, check or other method. Contact us at 503.513.0005 or info@ortrucking.org to make arrangements.
Did you know that contributions to candidates come from "OTA" and are not associated with any particular individual or company so you won't be affiliated with a specific legislator or party. (Contribution is not tax-deductible as a charitable contribution for federal income tax purposes. Personal contributions may qualify for Oregon tax credit - consult your tax service provider.)