OTA seeks out programs and partnerships that can not only improve and streamline member operations, but also expand ways members can get involved and have an impact in the world we're all traveling through.
In partnership with SAIF, OTA can offer members a workers' compensation program.
OGSERP discount: 1% for October 1, 2022 to September 30, 2023
To get started, contact:
Christine Logue
4005 SE Naef Road, Portland, OR  97267
P: 503.513.0005
For dues and membership information email: info@ortrucking.org
Eligibility criteria:
Must have an annual manual premium equal to, or greater than, $2,500
Be a member in good standing of the association (dues paid current)
Earned or unearned experience rating 1.00 or less
Group history period* incurred to manual loss ratio less than 40 percent
Group history period frequency of business operations less than SAIF average frequency for the principal class for accounts newly enrolling in the group**
Group history period frequency of business operations less than 1.5 times the SAIF average frequency for the principal class for current group members renewing in the group**
Underwriters have judgment authority for approving group pricing.
*Group history period includes policy periods incepting within 57 months prior to the effective date of the policy year being priced and must include a minimum of 34 months of history.
** SAIF calculates an average expected claim frequency (per $100 payroll) for each class effective January 1 each year using the expected frequency for the year that corresponds to the effective date of the policy year being priced.
Principal class codes:
7219 Truck – Haul
7225 Automobile Towing
7230 Trucking – Parcel/Package
7231 Mail Delivery
7232 Trucking – Mail/Parcel/Package
7360 Freight Handling
7382 Bus Co-All Emp
7403 Aviation-Airport/Heliport
8293 Furniture Moving
9403 Garbage/Ash/Refuse Collection
Class code and usage codes:
The following class codes will be allowed when defined as described below.
7370 06 Medical Transport
9328 01 Truckman NOC – Garage/Dock/Warehouse
OTA provides complete drug and alcohol testing program management. OTA Consortium Members receive assistance with regulatory compliance, managing random selections, mitigating delays in the testing process, quality assurance, audit preparation, document retention & preparation, and consolidated billing.
OTA Consortium can support customized drug and alcohol screening programs that include any and all testing: Pre-employment, random, reasonable suspicion, post-accident, return-to-work, and follow-up testing. We can also help set-up new testing policies and programs, customized for your needs. The breadth of the program is determined by you.
While OTA offers on-site audit and compliance consultation, you may be looking for some additional assistance when it comes to the many rules and regulations that define the trucking industry. Members have access to a wide range of compliance services.
Other Programs & Partnerships

EPA's SmartWay program helps companies advance supply chain sustainability by measuring, benchmarking, and freight transportation efficiency.
Did you know?
The U.S. transportation system moves a daily average of over 51 million tons of freight or about 57 tons of freight per capita
E-Commerce sales increased 20-fold between 2000 and 2019
Experts project that by 2050, global freight transport emissions will surpass those from passenger vehicles.
This level of activity comes with some global impacts that may compel corporations to seek opportunities to assess and streamline shipping operations so they can use less fuel and generate less pollution. SmartWay, a voluntary public-private program, offers assistance to address environmental trends and goals.
Human trafficking is, sadly, surpassing drug trafficking at America's southern border, but it doesn't end there. Trafficked children, women and men are "distributed" to every state in the nation. Truck drivers travel the same highways that human traffickers do, providing the perfect opportunity to be the eyes and ears out there.
Truckers Against Trafficking (TAT) exists to educate, equip, empower and mobilize the trucking industry to combat human trafficking as part of their regular jobs. Before TAT existed, only sporadic tips were being reported by the trucking industry, but now they have made over 1371 calls to the National Human Trafficking Resource Center, generating 425 cases of sex trafficking involving 744 victims, 249 of those minors, making them one of the fastest growing demographic of callers nationwide.
OTA has partnered with TAT to expand awareness and help grow the network of truck drivers who are trained to report on instances of human trafficking. Training your team is easy and can have a huge impact on this growing crime.
TRAIN YOUR TEAM
Have your team watch the full 26-minute video.
Make sure each team member has a TAT wallet card. If you need some, contact tat.truckers@gmail.com or the OTA office at 503.513.0005, info@ortrucking.org.
Once those steps are complete, go to the TAT website, click on "TAT Trained", then "Register", "Company", and fill out the information for the number of employees that have a wallet card and watched the video.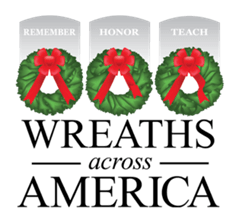 Each December on National Wreaths Across America Day celebrates the mission to Remember, Honor and Teach by coordinating wreath-laying ceremonies at Arlington National Cemetery, as well as at more than 3,700 additional locations in all 50 U.S. states, at sea and abroad. OTA has become more involved in this effort in Oregon by becoming an official supporter. By ordering through OTA, every two wreaths sponsored has a third added to the count for no extra cost. While OTA staff has been on-site at Willamette National Cemetery in Portland for the wreath laying ceremony, any location can benefit from wreaths sponsored through OTA.
Thanks to all of our members who have supported WAA through the years. Watch for more details on how you can participate this year!